Flysurfer Hybrid 9.5 – RTF
Progression, Hydrofoil, Travel, Touring
Kiten war noch nie so einfach! Verlasse dich auf den crashsicheren, ultraleichten HYBRID und kite mit außergewöhnlicher Leichtigkeit. Der spielerische Foil-Kite ist die erste Wahl für ambitionierte Foiler, sportliche Familien und entschlossene Trainer.
Der HYBRID ist fehlerverzeihend und kräftesparend zu fliegen sowie kinderleicht zu kontrollieren. Der Single-Skin Bereich ermöglicht es, die Kraftspitzen und den Lift zu drosseln, und verhindert Aufschläge mit hoher Geschwindigkeit. Der Kite driftet extrem gut mit und verfügt über enorme Stabilität in böigem, leichtem wie auch starkem Wind. Die grandiose Kontrolle und das vorhersehbare Flugverhalten machen ihn zum besten Starkwind Foil-Kite in unserem Line-Up.
Die Charakteristik des HYBRID's ermöglicht einen besonders sicheren und spielerischen Zugang zum Kiten. Das geringe Gewicht und die leichten Barkräfte lassen Kinder ohne Anstrengung den Kite im unteren Windbereich fliegen. Das Low-Lift Konzept und die sofortige Depower verhindern das Wegheben von Beginnern und erzeugt Vertrauen in den Kite. Die Revolution für die jüngsten Twintip-Shredder, ein spielerischer Kite zum Hydrofoilen und der Game-Changer für den Schulungseinsatz.
Der HYBRID ist im klassischen FLYSURFER-Stil auf jedem Untergrund zu Hause und kann auf Wasser, Land und Schnee eingesetzt werden. Er lässt sich bequem packen, damit man an jedem Ort und jeder Zeit bereit für eine Session ist.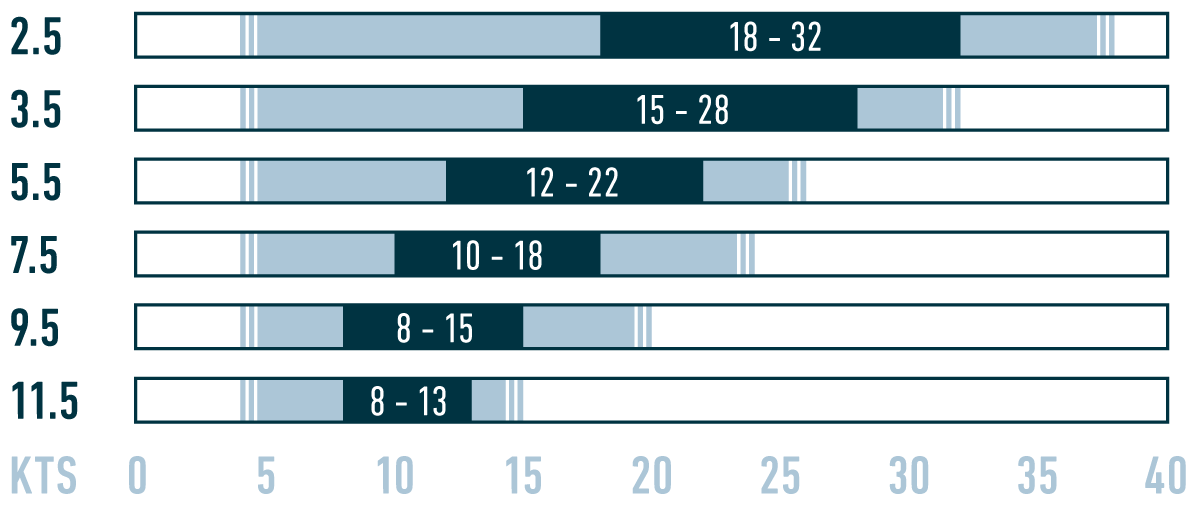 The wind range chart is to be used as a point of reference. It is based on a rider who weighs around 75kg (165lbs.) Actual use will vary depending on your weight, skill level, board size/type (twintip or hydrofoil) and wind conditions on water or land. When choosing a kite size, always use common sense and repeatedly choose a smaller size if you are not sure, especially when using the kite on land.
Lieferumfang:
1x HYBRID
1x HYBRID Bag
1x Repair Kit
1x Sandbag
1x Kite Safety Guide